Discover more from Life Intelligence
Live more. Love More. Do More. Matter.
Over 1,000 subscribers
What about 2018?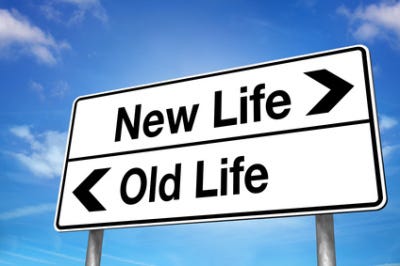 I like to think of every new year as a new opportunity to stop and evaluate life, then re-calibrate, start new projects, work on things I've neglected, and in general "begin." Yes, I can do that anytime. But starting with the "new year" somehow makes the whole process much more important. "Important" is good. I get important stuff done.
I start 2018 with introspection, because, when in doubt, stopping and looking around to figure out where I am, helps me establish my position in time and life-space. Meaning, a look into 2017 is in order.
2017 started out difficult and heartbreaking but went out with a bang, and a new house project to keep my creative juices going for a couple of months.
Ending my long-term relationship with my life-partner, followed by the tragic death of my brother in February of 2017, broke me emotionally and shifted me so far off my central axis that I landed in a personal apocalypse, aka "the cluster fuck" period of my life. It amazed me the kind of choices I made and the kind of company I kept while in that strange place. It didn't help that these two life events took place in the middle of an existential crisis while standing at a mid-life personal and professional crossroads.
There's nothing like an internal hurricane in the middle of an external shit storm, to get one's assumptions, beliefs, and priorities questioned, re-evaluated, re-organized, and changed altogether.
"But on you will go though the weather be foul. On you will go though your enemies prowl. On you will go though the Hakken-Kraks howl. Onward up many a frightening creek, though your arms may get sore and your sneakers may leak."
So says Dr. Seuss, and it happened exactly like that and worse, because it turns out the Hakken-Kraks were all in my head and tricky as they can be disguising themselves as good intentions, fun times, and well-thought-out reasons.
Sorting through all that continues. Meanwhile, what keeps me sane is diligently making time for the kinds of things that give me the ability to step out of the cooking pot and become the witness of what's cooking. Without yoga, dancing, meditation, and stepping out in nature, I would not be able to appreciate the transformative quality of this time in my life.
Lately, I've added a minimum of seven hours of sleep per night, because research and my doctor say that if I sleep less than seven hours per night, I'll go crazy faster. Dementia is not my only concern for growing older, though. Growing older is. And it turns out that unless I get enough sleep I can't repair my body, scrub and rest my brain of life's events, and will age a lot faster. Oh, hell NO! At least, sleeping is easy and free and now I have a new beautiful bedroom, in my new house project, where I love to hang out!
One big lesson I learned in 2017 is exactly how little immunity I have to do stupid things despite my 148 IQ and vast knowledge of human nature, a giant library of good advise, and an ample supply of examples of what not to do from people who've done it and regretted it. Haha. Thinking that I am smarter than others and my reasons are better only made things worse. What am I talking about??? Well, I'll let you know when the book comes out so you can read all about it. No worries. No one dies. All my money is still in the bank, too.
Humbled but no regrets.
Stay tuned for next week's introspection installment in which I'll make other confessions I probably don't want to admit to.
I'd love to hear about your big lessons of 2017 and where you are headed in 2018. Shoot me a line, or if you live in the Morro Bay, CA area, join me on Sunday, Jan 14 at 4 pm for an Intentions Setting Playshop. Information is HERE.
Cheers, and a happy 2018!